By Thea Fiore Bloom
The makers of beaded earrings and the designers of the cutest of kiddy costumes are currently packed in tighter than capers in a jar on the craft side of the Etsy universe.
"Crafts is crowded and jewelry is horrifically bloated," said veteran Etsian Sara Lawrence, who runs the Flutter and Twirl shop on Etsy.
Meanwhile, out beyond the knit rompers, on the arts side of the Etsy, lie acres of uninhabited galaxy. Your kind of pioneering clients may already be there, browsing.
"For the past few years, Etsy's customer base has been broadening and changing," Etsy storeowner and graphite/gouache artist Jessica Lucas said. "Now that Etsy has gone public (April 2015), they will be even more of a household name and that will mean more customers who want to buy visual art."
Etsy art buyers have three things in common with Etsy art sellers: First, both groups love art but hate the barriers that galleries (by their very nature) erect between buyers and artists. Second, both the collector and the artist benefit from the financial reality of Etsy.
Art collectors enjoy lower prices on art, and artists enjoy not giving a third or more of the price of their piece to gallery owners. Artists pay 20 cents a listing and a 3.5 percent commission on each piece they sell to Etsy. Third, many Etsy artists and collectors just don't schmooze well.
"I needed exposure for my art," the Canadian artist Lucas said. "Toronto has a vibrant art scene, so it would have been logical for me to go toward the galleries here in my home city. But they are very schmoozy. Schmoozy is not my nature. I chose Etsy because I was more at ease making a fan base online — in other cities and countries.
On Etsy, I could deal with real people I was comfortable with who genuinely got my work."
Why Etsy is Good for Artists
You can invent or reinvent yourself on Etsy. "Etsy is especially great for new artists — no matter their age — to test the waters," said artist, agent and author Lilla Rogers. Etsy can also be a supportive platform for seasoned artists who want to switch genres. Maybe you are a confident, abstract painter who works large but secretly wants to show your new, tiny architectural watercolors. Etsy-land may be the place for you to receive the affirmation you need to try out a new direction.
"Etsy is the first port of call artists should try," said U.K. mosaic artist Nikki Ella Whitlock. "Opportunities, connections and dreams I never thought would happen have come about there. Etsy has opened up my mind to different ways of working and thinking. "It made my business global. I was selling my work in England but it wasn't truly embraced, as it is on Etsy. I gained especially great acceptance from American buyers who really seem to respond to my open-spirited creativity." Some of Whitlocks's bioluminescence-inspired fused glass commissions are fetching thousands of dollars a piece now on Etsy.
Price Barrier Myths
Etsy shop owners have blogged about a maximum price sweet spot that one shouldn't venture over. Many place that cap at $200. But visual artists may benefit from not paying any attention to this advice from the very start. Lucas' first sales were in the $300 to $500 range. Whitlock's very first sale was for £800 ($1,235). "Everyone thought I was mad," Whitlock said. "An artist colleague of mine told me she loved to sell her silver pieces on this American site called Etsy. I worked hard on photos of my work, then opened my Etsy shop in a day or so and put just one thing up on it. I thought it was worth maybe 800 pounds, so I tagged it for that and forgot about it. Three months later, I got a notice from PayPal that there was an £800 credit in my bank account. My piece sold to this lovely woman in Australia, and I haven't looked back."
Do artists such as Whitlock engage in ongoing marketing for their lucrative, meaningful, part-time incomes on Etsy? Shockingly, no. No 10 pins a day on Pinterest, no analysis of views, no Instagram, no sweating over checking changes in favorited items, no Tumblr, no analysis of traffic paths to their shops, no thrice-a-day tweets, and so on. What do they do then? And why are they happy?
Ten ways successful artists make Etsy work include:
1. Don't Make Etsy Your Only Income Stream
"Etsy can be fantastic, fun and lucrative, but it's not a get-rich-quick scheme," Rogers said. "Like any other business, if you want it as your sole source of income, it's going to be serious work." Interestingly, every artist interviewed decidedly did not want high-profit, full-on Etsy. "If I needed to make Etsy my whole career, I know I could push hard on the marketing and it would fly," Lawrence said. "But a successful full-time Etsy shop takes over your whole life; it's stressful and it's 24/7. I have other things I am excited about in my life, like family. The successful store I now have on Etsy (etsy.com/shop/FlutterandTwirl) is a source of delight. It is one nice income stream, but not my only one, and I am satisfied with that."
2. Find Your Niche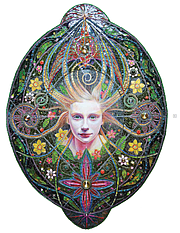 What do you want to sell on Etsy? Google the keywords associated with that work. Then do the same at Etsy. How is your work different? Your work on Etsy needs to be original and excellent to bring in the higher prices you may want or need to charge. "The more your art speaks of you and you alone, the better you will do on Etsy," Whitlock said. If your work falls into a bloated area, such as ceramics, is there an alternative passion you've kept hidden? It might be all clear over in that area. Recently I looked online for a hanging mobile for my kitchen. My Google search turned up one giant, cold, minimalist Calder imitation after another. I call them "Schmalders." So I went over to Etsy. The good news? Not a chilly Schmalder in site. The bad news? I had hit the other extreme — pages of puffy sheep suspended from fluffy felt clouds. At the bottom of one page, I spied a mobile of vibrant, yellow gingko leaves serenely photographed mid-sway. Clearly, the mobile's maker, Lawrence, had researched her niche. "This was my second Etsy experiment," Lawrence said. "The first was jewelry. The second time around, I did more homework and saw the market for my kind of mobiles was wide open. So I said, 'Let's see if anybody likes these,' and they did."
3. Research Pricing
Etsy actually warns that setting prices too low could hurt sales. Check out the series of articles on the Etsy blog about the art of pricing. "Value your time and charge more as your work gets better and better," Whitlock said. "I try to push the envelope with each new piece." You will need to research your own costs, factor in your own skill, time, material and shipping challenges, as well as the uniqueness and evolution of your own pieces. "If you need more constant income, I would encourage you to sell your original art alongside reproducible art (which you can sell at a lower price point)," Lucas said. "Most of my prints are made to order (highresolution giclée prints). They are quick and easy to have produced on demand in Toronto." She charges $60 for an 11-inch-by-14-inch print, including shipping cost.
4. Research Shipping and Handling
"Take time and care packaging your art so that it doesn't bend, chip or break in transit. Articulate all of your shipping and return policies upfront, including how often you ship, when returns or exchanges are accepted_(if ever) and whether_you'll cover packages that are_lost or damaged," writes Lisa Congdon (author of Art Inc.) in Etsy's Seller Handbook. Look at other well-established sites with art similar in size, shape and weight to yours. How do they price for shipping, handling and international orders? Research how to use PayPal to ship from home; pros on Etsy say it's a huge time and money saver. Visit the Seller Handbook for more shipping and packaging information.
5. Write Story-based Copy
At her Etsy shop, Flutter and Twirl, Lawrence tells a brief yet evocative story for each different kind of leafed mobile she has for sale, be it cherry blossom or Japanese maple. She concisely describes how each tree is special to her (thereby personalizing her copy). Then Lawrence incorporates a small vignette as a product description that allows the prospective customer to see and feel what it would be like to own this piece of art: "The Large Golden Gingko Leaves mobile sways and twists in your favorite corner casting leafy shadows above the chair you like to curl up in with a good book." With one sentence, Lawrence has placed one of her mobiles in your home. Inhabitable stories equal sales, especially on a personal site such as Etsy.
6. Craft an Inviting Bio
Write your bio in the first person and include personal details. (You don't have to let people rake through your underwear drawer to write a bio with some personality.) Include photos of yourself at work in your studio. Scatter them amongst your product photos or use one image of you at work as your avatar.
7. Use Great Photos
"Item photography is perhaps the most important aspect of your shop," the Etsy website states. Whitlock agrees: "Spend hours on photos. You need to be able to convey through a computer screen how you would see a piece as you would in the flesh, from many different angles." Take a class. Buy or borrow a good camera. Learn how to shoot with natural light and experiment with photo-editing programs. This article has good photo tips for Etsy storeowners: bit.ly/etsybetterphotos.
8. Ask: Is Etsy the Right Neighborhood for You?
Research Etsy itself. Browse its forums and its rules and regulations to see if it's a good fit for you. Start by reading articles in the Seller Handbook. Sign up for Etsy's blog.
9. Marketing Minimums
Create a great website. Best case, it will contain a blog to usher people toward your Etsy site. Whitlock's self-built site is a visual tour de force. If you want to succeed on Etsy, you must learn the ins and outs of search engine optimization tagging. SEO tags should be descriptive, categorizing words that you link to your art and place within your titles so people can find you. This process can also be done on Google. For more tips on the business side of Etsy, visit handmadeology.com.
10. Be Patient
Top Etsy seller Angela Di Cicco wrote on her blog, Angela's Artistic Designs: "Be patient and flexible. In the beginning I didn't have any sales._Building a business is like building a house. It has to be done one careful brick at a time. It is a process. Be comfortable with the process. In no time at all, you will have added to your knowledge pool."
If you research even one these 10 options and never open an Etsy store, you still win. The work you put into setting up PayPal, learning more about photography, SEO and shipping will do double duty by bettering your regular art business.
As Rogers said: "Most importantly, whether you want Etsy to be your one way to make a serious living or a single, meaningful income stream, remember great work sells, so keep making great work." PA
Thea Fiore-Bloom is a freelance writer, artist, teacher and literacy volunteer who holds a doctorate in mythology. Fiore-Bloom's work is inspired by archaeology, architecture, world heritage sights, and the objects and stories of the people she meets in her own backyard.