Professional Artist, the only business magazine for visual artists, recently went in search of images that represent our readers, as professional artists, during our second annual Portrait of a Professional Artist call, part of Professional Artist Month.
We loved getting a glimpse into the images that resonate with you and serve as metaphors for your hectic, multitasked, wonderful and creative lives. Out of more than 400 entries, here is our top pick: Nicole Trimble, who will receive a $250 gift certificate from Blick Art Materials and be published in the October/November 2015 issue of Professional Artist magazine. See her entry below along with a list of our runners-up. Thanks to all who entered!Portrait of a Professional Artist top pick: Nicole Trimble (nicole-trimble.com)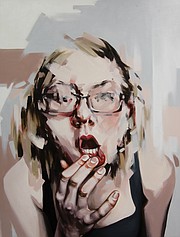 This piece is my attempt to outline the sometimes tenuous and turbulent connection between one's interior and exterior environments — acknowledging both my unique experience with and perception of anxiety and the universality of the sensation.

Posed as if looking at a mirror, scrutinizing and dissecting — an action tied to many of my personal anxieties — the image was then fractured and distorted to replicate this action, with the goal of capturing a sensation more than rendering a likeness. Though elements of self-examination and introspection lie at the core this work, it is not my intent for the imagery to be viewed as solely personal or self-portraiture. Rather, I want the viewer to be active in their perceptual response, to engage with the work and draw connections between it and their own experiences and decipherment.

I feel this piece captures the "Portrait of a Professional Artist" theme because it depicts a truer image of myself that goes beyond my physical appearance to capture a bit of what makes me tick, and the inner-dialogue that drives me to make the work I do today.
The runners-up are:
AMY PLANTE
ANKUR MISHRA
BILL MURRAH
BYRON TAYLOR
CAROLYN COHEN
CHRISTOPHER STILLIANS
DEBRA KEIRCE
DELONA SESERMAN
DOMINIQUE ST CYR
DONNA MITCHELL
ELAINA POSEY
EMILY ARNOLD
GRAHAM EDWARD RHODES
JASON SACRAN
JENNIFER EMILE FREEMAN
JOEY P. MANLAPAZ
KAREN AHUJA
KAREN WHITMAN
KEVIN GRASS
KRISTINE CAMPBELL
LESA VANSINGEL
LINDA HATFIELD
LOLA LONLI
LOU BAKER
LOUIS ZOBECK
MICHAEL BRUGH
PATRICIA MAGUIRE
REBECCA M. FULLERTON
ROXANNE RICHARDS
SHARON POMALES
STACEY VALLERIE MEYER
SUSAN GECKLE
SUSAN MELLY
TERRY STRICKLAND
TONY HENSON
An album of their entries will be posted on our Facebook page soon!