British illustrator Helen Green had always enjoyed the music of pop star David Bowie. Last year, when the singer turned 68, Green decided to do a special kind of portrait, one which certainly had a technological component to it, and, one could say, even reflected some of Bowie's own love of technology. "I was thinking of making some kind of visual career-spanning compilation of my own, and so the animated portrait came to mind," Green said. Her portrait wasn't a still image, in fact, it was a series of images of the many looks and costume changes the pop singer had throughout the years. She then turned the images into an animated GIF and posted it online, which went viral when the pop singer died in January.
Although the animation is only about three seconds long, it took more than a month to create all the pencil drawings, which were then scanned and colored digitally in Photoshop using watercolor textures. "I think the main challenge for me was to draw Bowie facing in very specific directions," Green said, "so that the overall head-turning movement was consistent and smooth. The fun challenge was to improvise a little with the reference images I worked from. They were usually from the wrong era, but perfect for the angle of the face."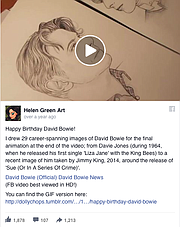 In order to give the animation a hypnotic effect, Green worked hard to have the face turn from one side to another in a smooth fashion. What you might not realize, though, is for most of the animation, the singer's eyes are looking directly at the viewer until the very last moment. She also was careful to line up the features, using horizontal guide lines. "To ensure the faces all stayed at the same consistent level," Green said, "I had a separate layer in Photoshop, which had guidelines positioned for the eyes, nose and mouth."
The animated GIF was incredibly popular, particularly after David Bowie's death. In January of 2016, Green said she had more than 1.9 million impressions over 28 days. "Almost three months on, I'm still getting notifications every day, attached to that animation," Green said.
Visit Helen Green's website to watch the GIF. To find out more about how David Bowie was inspired by technology, check out my State of the Art column, in the June/July 2016 issue of Professional Artist magazine, available on newsstands and online in April.
Terry Sullivan is the former editor of  Professional Artist magazine and the former technical editor at American Artist magazine. He currently is an editor at Consumer Reports, where he covers digital cameras, camcorders, smart phones, printers and digital imaging. He is also an artist and musician. Follow him on Twitter: @TerryCR.