Last year, Professional Artist held its second-annual Mentor of the Year search, sponsored by Jerry's Artarama. We asked you to think about the people who have impacted your art career and helped shape the artist you are today.
We selected Patric Stillman as the 2015 Mentor of the Year, along with honorable mentions Lloyd Menard and Dennis Jory. Read on to learn about their stories. This also appeared in the April/May 2016 issue of Professional Artist. Thanks to all who entered our search!
MENTOR OF THE YEAR: Patric Stillman
Nominated by: Evelyn Loss
Our Mentor of the Year for 2015, Patric Stillman.
I have known Patric Stillman for more than ten years. He is my friend and creative mentor. When I first met Patric, he was utilizing his talents in new technologies and video creation, mainly tutoring young people. During that time, Patric headed up a statewide program partnering with the California State Library system and worked internationally on the San Diego Latino Film Festival producing unforgettable videos.
As he turned his attention to photography and painting, his interaction with the local arts community quickly increased. He has led discussions with artists for the San Diego Art Institute and City of Encinitas, Veterans for Arts, Art Career Cafe, Space 4 Art, Expressive Arts Media Arts Center San Diego, Art of Pride and other San Diego-based non-profits. His photography was seen in the Louvre this year and was featured at SCOPE Miami during Art Basel.
Earlier this year, he established The Studio Door, an arts incubator dedicated to the creative marketplace and the promotion of contemporary artists. The storefront allows him to balance the creative process with an in-depth knowledge of arts commerce for hundreds of artists. Patric is the go-to guy when you are having questions concerning your artwork, whether it be conceptual or nuts-and-bolts marketing.
I am fortunate to be one of the artists at The Studio Door. I am working in fused glass, moving from craftsman to fine artist. Under his wing, I have grown as a professional artist through his encouragement and challenges. Like many others, I am fortunate to have found a mentor who motivates me to grow as an artist.
~ Evelyn Loss
HONORABLE MENTION: Lloyd Menard
Nominated by: Cory Knedler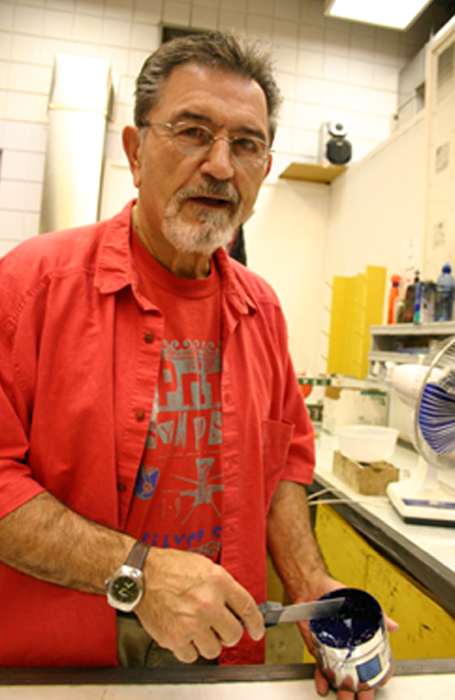 Lloyd Menard taught at the University of South Dakota for over thirty years, where he was hired in 1972 to teach printmaking until his retirement in 2005, and his mentorship continues through Frogman's Print and Paper workshops. When Lloyd came to USD, the university had only a small undergraduate program in art and one printmaking press. Today, more than 40 of his USD alumni teach in higher education across the United States and abroad. I know all of his efforts and can attest to them myself, because I was one of Lloyd's printmaking students who came to the USD for my Masters of Fine Arts, because of the legendary name "Lloyd Menard." Twenty years later and now as the Chair of the University of South Dakota Department of Art, I hear from alumni each month declaring success stories and achievements in their own careers because they had the opportunity to study under the unique teaching philosophy of Professor Lloyd Menard.
~ Cory Knedler
HONORABLE MENTION: Dennis Jory
Nominated by: Martha Inglis