At almost every technology trade show I've ever attended, I've seen displays and installations so elaborate that it's as if they're not just meant to evoke a sense of amazement — they're meant disorient you to the point that you lose your sense of time: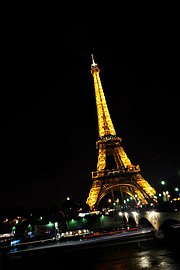 Is the future now? But this notion of creating outlandish or spectacular displays or over-the-top installations for particular events has a long history.
Here are two examples:
As far as symbols of modernism go, you can't get more iconic than the Eiffel Tower in Paris. In fact, this monument of modernism was created specifically for the World's Fair, a kind of uber trade show of the past, in 1889. And it was created to be the tallest building of the age.
Art critic Robert Hughes points out in his masterful book The Shock of the New: "The important thing was that the Tower had a mass audience; millions of people, not the thousands who went to the salons and galleries to look at works of art, were touched by the feeling of new age that the Eiffel Tower made concrete." It wasn't just marvel of technology, design and engineering. It also became a symbol and inspiration of what technology could give birth to.
But these breathtaking blockbuster fairs didn't just take place in the 19th century. Hughes, in another brilliant book, American Visions, describes the effect the World's Fair of 1939, which was held in New York, had on the public and artists alike. However, at this fair, the display had a different, darker effect: "The single biggest hit of the 1939 World's Fair was, however, Futurama: the General Motors exhibit, built at a cost of $8 million to the design of Norman Bel Geddes. … The theme of Futurama was America in 1960." According to Hughes, visitors took a (pre-Disney-like) simulated ride (1,600 feet long) across a mini-America. "The diorama included a million trees, half a million buildings, and 50,000 streamlined cars — all future GM models, of course."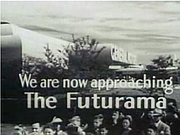 It was Utopian fantasy wedded to corporate dreams of unending consumption, and in many ways, these Orwellian dreams were never realized. But I believe they live on in the elaborate techno-presentations and displays shown year after year at The International Consumer Electronics Show (CES) as well as at the many auto shows and even at many fine-art festivals. It's almost as if you can hear the echoes of Futurama reverberating in the mammoth displays put on by LG, Samsung, Sony, Intel and others.
Find out more about technology and trade shows, and how you, as an artist, might benefit from attending the right tech conventions in my State of the Art column, in the Oct/Nov. 2015 issue of Professional Artist magazine, available on newsstands and online on Sept. 1.
Terry Sullivan is the former editor of Professional Artist magazine and the former technical editor at American Artist magazine. He currently is an editor at Consumer Reports, where he covers digital cameras, camcorders, smart phones, printers and digital imaging. He is also an artist and musician. Follow him on Twitter: @TerryCR.