When David Bowie died earlier this year, I'd always known he had been an incredibly gifted musician, artist and actor. What I hadn't realized was how Bowie had always been inspired by technology. To hear some of the ways he used technology or inspired other artists and collaborators, I've compiled a list of links to videos, which I think will be inspiring to you as well.
Lady Gaga's tribute to David Bowie at the 2016 Grammys
Lady Gaga's performance at the Grammy Awards was a tribute to David Bowie, and was also a collaboration with the technology company, Intel. You can see how Intel assisted Lady Gaga, in this video. To watch the tribute, click here.
David Bowie with Jeremy Paxman on BBC Newsnight
In 1999, the singer talked with journalist Jeremy Paxman about many different subjects, including his prediction of the power of the Internet. Watch the interview here.
David Bowie on mistakes
This very short clip reveals Bowie's process for using technology in his music.
David Bowie on being an artist on Charlie Rose
Although Bowie doesn't discuss much about technology in this video, it's intriguing to hear his thoughts on painting, including why he paints.
The making of David Bowie's "Heroes"
Tony Visconti, David Bowie's collaborator and producer on many albums, discusses the technical aspects of creating one of David Bowie's classic 1970 songs, "Heroes."
David Bowie, Brian Eno And Tony Visconti record "Warszawa"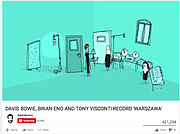 A superb little animated cartoon of an imaginary meeting of David Bowie, with two of his long-time collaborators, Brian Eno and Tony Visconti. None of this ever really happened, but a lot of the jokes revolve around technology, including a joke about an Eventide harmonizer, which "fiddles with the fabric of time."
Find out more ideas on cool digital-camera features in my State of the Art column, in the June/July 2016 issue of Professional Artist magazine, available on newsstands and online in April.
Terry Sullivan is the former editor of Professional Artist magazine and the former technical editor at American Artist magazine. He currently is an editor at Consumer Reports, where he covers digital cameras, camcorders, smart phones, printers and digital imaging. He is also an artist and musician. Follow him on Twitter: @TerryCR.